Macy Gray Producer Darryl Swann and 3D Audio Pioneer Roy Salguero Explain How
PRESS RELEASE
NOV 21, 2018 09:00 PST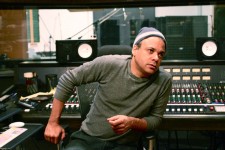 Los Angeles, CA, November 21, 2018 (Newswire.com) – ​​Moshpit XR Studios, a virtual-reality gaming studio is pushing the envelope for the ultimate 3D Audio solution for their upcoming VR concert RPG & artist-release platform named "Moshpit-VR".
Moshpit XR Studios COO, Music and Co-Creative lead Darryl Swann says, "Historically speaking, audio has been treated as sort of an afterthought as the visual aspects of media have been well served.  The irony though is that audio can exist without visuals, but visuals with no audio can be offsetting."
Video game audio has come a long way since the simple bleeps of first generation 2D titles, but as immersive technologies continue to evolve, namely VR, once again audio is lagging a bit behind visuals as HMD optics advance rapidly.  Many companies, both large and startup are working on creating the ultimate 3D Audio solution, one that is both realistically-immersive, and intuitive to program.
Historically speaking, audio has been treated as sort of an afterthought as the visual aspects of media have been well served.
Swann, and 3D Audio Lead Roy Salguero recall limitations while utilizing stock dev-environment audio-engines while developing the soon to be released initial version of Moshpit-VR.  Swann, who comes from a stereophonic, record-producing and mixing background, took for granted the intuitive and clean GUI's of well-established digital-audio-workstations, and found stock game dev-environment audio-engine-GUI's cumbersome and less intuitive as he and Salguero initiated programming the 3D Audio for Moshpit.
Many VR developers turn to well-established, traditional game-audio plugins for added audio control, then apply various 3D Audio solutions through these plugs, but there are notable developments bubbling in the 3D Audio space.  Microsoft is developing a cutting edge 3D Audio solution that could change the immersive-audio paradigm.
Since Moshpit is a concert-based game & platform, realistic immersive audio is key for emulating ear-shattering overlapping reflections on stage, and unique audio obstructions and occlusion while backstage at concert arenas.  Moshpit XR Studios is working diligently to set a precedent for what a VR concert-game truly sounds and looks like. "The Microsoft solution is very exciting as they approach immersive audio from a new angle, and is computationally less-expensive than existing solutions.  We aim for Moshpit to be the Poster-Child for ultimate immersive audio. Also, as 3D Audio evolves, Records will begin to be mixed in 3D (not to be confused with "Surround") , 3D Audio:  An imaginary spherical space instead of current 180-degree panoramic Stereo; just like how "Stereo" supplanted "Mono" between 1930 and 1950….mark my words, 3D Audio Records are inevitable, able to be enjoyed through any existing stereo headphones, and eventually through non-headphone ambient systems employing psycho-acoustics for X,Y,Z positionality in an open space" says Swann.
Moshpit XR Studios is releasing a free, initial version of Moshpit this Christmas 2018. This initial release will provide users a playable demonstration of Moshpit's game platform and technology while exposing them to various environments and gameplay while the full online platform is being developed and released in 2020.
About Moshpit Studios
Los Angeles based Moshpit XR Studios is becoming a leader in the electronic-entertainment software industry. Established in 2016, Moshpit XR Studios specializes in development of content for emerging immersive platforms including virtual-reality, augmented-reality and 3D Audio. Under the direction of a talented team of partners, Moshpit XR Studios' first VR offering is poised for release and is setting benchmarks in the industry.  For more information please visit http://MoshpitXRStudios.com.
Source: Moshpit XR Studios
---
Categories: Video Games
Tags: concert, music, video games, virtual reality, VR gaming
---